Casino player pockets $500,000 slot jackpot
A gambling enthusiast from Sarasota (Florida) was enjoying a progressive slot machine when he struck oil. Matthew Manger scooped a jackpot worth more than $500,000 at a gambling resort in Biloxi (Mississippi). A spokesperson for the casino confirmed that Manger was playing a Tarzan-themed slot machine.
Extremely rewarding visit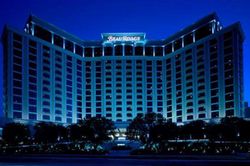 Manger is not a regular at the Beau Rivage Resort & Casino as he visits the venue only once a year. Every October when travelling to a trade event in Texas, he stops at the Biloxi-based gambling parlor. This latest visit is definitely one to remember after landing a progressive jackpot of more than $500k.
Unbelievable moment
The Sarasota resident was spinning the reels of the Tarzan slot machine for nearly 15 minutes when he hit the jackpot. Manger commented that the one-armed bandit started spilling coins like it was 1999. He was in disbelief when he saw the amount on the slot's display, while other players gathered around the machine.
Slot machines packed with bonuses
Manger wanted to inform his partner, but she didn't answer the phone. The fortunate gambler said he has no immediate plans for the stunning windfall, but paying off his mortgage would be a good option. "The Tarzan slot machine is without a doubt one of my favorite games due to the whole host of bonus features", Manger added.