Online casino player hits $5 million slot jackpot
The hugely popular Mega Fortune Dreams slot has spilled out yet another life-changing jackpot. A Swedish gambling enthusiast took home a whopping $5 million in cash courtesy of the NetEnt-powered game. The fortunate player in question, identified only as Anita, won the progressive jackpot whilst playing Mega Fortune Dream on a mobile device.
Unforgettable event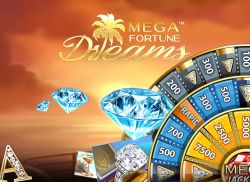 Anita stated that she could not believe it and she was stunned by the large size of the payout. "I had signed up with the online casino only a couple of days prior to the massive win." The Gothenburg resident defined the whole event as 'surrealistic' and 'hard to believe'.
Time to spend some cash
Asked how she plans on spending the money, Anita replied that she would use the windfall to enjoy a couple of holidays. She plans to purchase a new car as well, while her family will also benefit from the seven-figure online slot jackpot.
Rewarding games
Online casino players love to spin the reels of the Mega Fortune Dreams slot as it comes with a pooled jackpot. "Our progressive slots are extremely popular, and they have already produced lots of millionaires. This latest winner proves the rewarding potential of progressive slot games", a spokesperson for NetEnt said.