Another suspect booked in IPL betting scandal
Mumbai Police have detained a bookmaker in connection with the IPL gambling scandal. The detention of 50-year-old Rakeshkumar Gangwal is the 18th arrest in the widespread betting case. Police booked Gangwal in his Jaipur-based home after they had received information about the bookmaker's location.
Foreign associates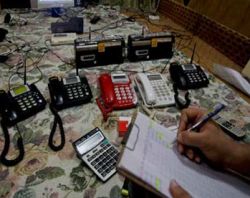 Local media report that Gangwal had connections with several other bookmakers, among which two companions in Dubai and three in Pakistan. They all had nick names, including Babloo, Master Salman, Javed UBL, 100 and Vickey 26. Ramesh Vyas, another bookmaker who was earlier arrested, acted as spider in the web. It remains unclear which of them were Pakistani and which were Emiratis.
Bollywood star
Authorities had previously detained 17 other suspects in connection with the betting scandal. Among those suspects was film/ television actor Vindoo Dara Singh and Gurunath Meiyappan. The latter is a prominent official of the Chennai Super Kings franchise. The group of arrested suspects also included bookmakers Ramesh Vyas, Ashok Vyas, and Pandurang Kadam.
Communication through conference calls
During last month's arrests, agents seized nearly 100 cell phones, 18 SIM cards, in addition to one notebook. The bookmakers used some of those phones to communicate with their associates abroad. Additionally, five landlines enabled them to communicate through conference calls.
Big time bookmaker
Mumbai Police seized three cell phones from Gangwal's residence. Shobhan Mehta, another top bookmaker, was also one of Gangwal's associates. Mehta, who reportedly offered IPL bets to diamond brokers and builders, was booked last week. Gangwal also cooperated with bookmakers Pawan Jaipur and Badri.