British gambler cashes 28.5 lakh rupees despite losing bet
Mark Quickfall has crammed his wallet with a whopping 28.5 lakh rupees although Lady Luck wasn't on his side. He and his buddies placed a ₹ 14,694 wager, which consisted of five different horse racing picks. Four of them were winning bets, netting the five friends a staggering 142.7 lakh rupees. They decided to split the winnings, despite Quickfall's losing wager.
Fine example of solidarity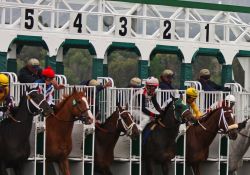 While the lads were enjoying their day off work, 57-year-old Quickfall was finishing a job in Utterby. They would have earned an eye-watering ₹ 8.4 crore in cash if his bet had been a winning one. However, the foursome didn't hesitate to share the stunning payout worth 142.7 lakh rupees with their buddy. They placed the ₹ 14,694 bet at the Cheltenham Racecourse, according to local media. Needless to say that the five friends will continue to enjoy the excitement of sports betting.
Certainly not an uncomfortable feeling
Quickfall runs a flooring installation company in his hometown, and he wasn't able to join his buddies because of a busy period. "My friends suggested that collecting my share of the winnings could be uncomfortable because of my losing bet, but that's definitely not the case", the 57-year-old entrepreneur commented. He plans to use the payout to settle some debts, while he also plans to take his family on a trip to Dubai.