Benefit from Royal Panda's extremely rewarding loyalty program
Nothing beats the sensation of gratifying bonuses, but generous VIP clubs certainly add up to the fun. The Loyal Panda program is a fine example of Royal Panda's rewarding DNA. And the best thing is: It's totally free! Start collecting so-called 'Loyal Panda Points (LP Points)' by playing for real cash, and trade them in for awesome giveaways in the Loyal Panda shop.
Four different levels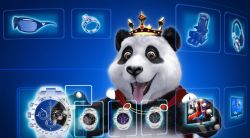 Regardless if you win or lose, Royal Panda hands out Loyal Panda Points every time you play for real money. Additionally, the Loyal Panda program features multiple levels, and each of them requires a minimum number of entry-level points:
Bronze
Silver (15,000 Loyal Panda Points)
Gold (45,000 Loyal Panda Points)
Diamond (120,000 Loyal Panda Points)
Every level contains a specific repertoire of giveaways, which get better every time you reach a higher level.
Impressive spectrum of cool giveaways
Wondering what kinds of perks are up for grabs in the hugely popular Loyal Panda shop? These are only a few examples of what you can expect:
Fabulous gadgets, including Apple products
Free spins for exciting online slots
Ray-Ban sunglasses
Tickets to the world's most famous casino city: Las Vegas
Rolex Submariner
So, play for real cash at Royal Panda, and rake in cartloads of Loyal Panda Points for some amazing giveaways!