British Royal Panda bear collects $5,000 cash prize
People were probably surprised when they saw a human panda in a supermarket, in a park and even on a train. Philip definitely enjoyed his adventures while dressed as a panda, which netted him a whopping $5,000 in cash. The online casino player from the UK was the proud winner of Royal Panda's birthday promotion.
Glorious winner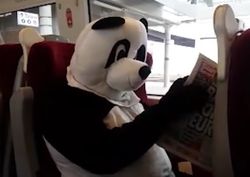 It all started with the seven-day campaign packed with free spins and online slot games. Philip qualified for the Starburst final, which he won. The gambling enthusiast then faced the challenge to complete four activities whilst wearing the funny panda costume. Philip completed the task with a gusto and collected $5,000 in cash.
Human sized panda bear in public
The British gambler also had to film the activities, which consisted of:
Scoring a goal
Visiting a local grocery store
Walking through a park
Reading a tabloid on a train
He certainly drew a lot of attention as he carried out the tasks while wearing the official panda costume. At Royal Panda they were more than proud to see their mischievous mascot performing in public.