Official Jimi Hendrix slot on its way to Royal Panda
After the success of the Guns N' Roses slot, another legendary rock star will make its debut at Royal Panda in April 2016. Jimi Hendrix was a real legend in the world of electric guitar music. For that reason it doesn't come as a surprise that NetEnt has created a rocking slot machine themed around the influential musician.
Honorary project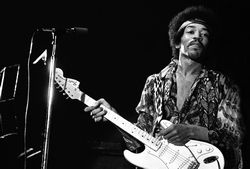 "There's no doubt about Jimi Hendrix's legendary status as one of the best guitarists ever. We feel very privileged to be licensed to develop an online slot machined based around such an iconic music star", a spokesperson for Net Entertainment commend. "The collaboration with his relatives and their organizations has definitely provide us with extremely valuable input."
Packed with legendary songs
The Jimi Hendrix game will be a 3D video slot and forms part of Net Entertainment's Rocks' series. Players will enjoy a selection of hits, including 'Hear my train a comin' and 'Who knows'. Almost needless to say that the official Jimi Hendrix online slot will feature an immersive visual and audio experience. In September, Royal Panda will launch another rocking title: the official Motörhead slot.