Arrested for offering gambling with happy ending
A group of 47 individuals have been arrested on suspicion of attracting Chinese gambling fans to casinos in South Korea. Besides gambling, customers could also enjoy sexual activities. The group included thirteen men who operated gambling parlors in South Korea, plus 34 associates who recruited Chinese nationals.
Chips, massages and sex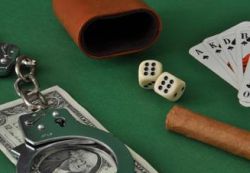 The suspects offered gambling in combination with sex, according to Chinese authorities. For example, those who bought $15,770 in casino tokes could enjoy a massage. Chinese gamblers who purchased $31,540 in chips could benefit from female company. Nearly $79,000 in casino tokens would come with a three-day sex offer.
Associates in China
People who accept money for luring ten or more Chinese nationals to offshore casinos will receive prison sentences with a maximum of ten years, according to criminal law in China. The gambling parlors in question awarded Chinese customers bonuses for recruiting other players. Additionally, associates located in China were commissioned by the South Korean casinos to attract more customers.
Illegal money chain
A holiday company in Beijing reportedly facilitated the financial transactions with regard to the gambling packages. The agencies would collect cash from local associates and send the cash to a bank account. Subsequently, the money would be split and send to multiple black-market banks in China. From there, the funds would be send to an unauthorized bank in South Korea, allowing the gambling venues to collect their 'proceeds'.