Fifth consecutive month of revenue growth for Macau casinos
Gambling parlors in Macau have posted another month of revenue growth in December, which marks the fifth consecutive month. The smaller share of high-rollers doesn't seem to hurt the world's leading casino hub, although gross gambling revenue weakened slightly compared to the same month in 2015. It is believed that the worst is behind for Macau's gambling facilities.
Hit by crackdown on corruption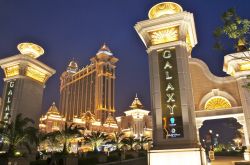 After more than two years of declining gambling revenue, growth returned in August last year. Ongoing efforts to root out corruption discourage high-rollers, which obviously affect gambling revenue in the former Portuguese colony. Gambling fans in China can only choose from several lottery games as all other games of luck are illegal, with the exception of Macau and Hong Kong.
Shrinking contribution of wales
The share of VIP revenue has shrunk by more than 50 percent, while gamblers from the lower and lower-middle classes contributed nearly 50 percent to the gross gambling turnover. In 2015, low-rollers made up approximately 34 percent of the gambling revenue in Macau. Although high-rollers spend more cash, luring them to casinos costs lots of money, in contrast to low-rollers, who generate higher margins.
Negative factors for Macau casinos
Market watchers are pessimistic with respect to revenue from high-rollers due to several reasons. Property prices in China are expected to increase even further, while the availably of loans continues to deteriorate. In the past, both elements had a deleterious impact on gambling revenue from high-rollers in Macau. Beijing's attempt to trim outflowing capital is another negative factor for casinos in the special administrative region.