Macau gambling revenues down for an eight straight month
Gambling resorts in Macau are still struggling with the effects of the economic downturn, resulting in another month of falling revenues. An increasing number of big spenders from the Chinese mainland gives Macau the cold shoulder as the economic growth continues to slow. The fight against corruption is another main reason for the eight straight month of decline.
Casino revenues continue to decline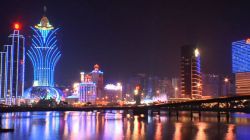 Official figures demonstrate that gross casino revenues fell 17.4% in the first month of this year in comparison to the same period in 2014. Gambling venues in the former Portuguese colony saw their revenues drop to 23.7 billion patacas in January. Last year's revenues were 2.6% down to 348 billion patacas.
Less casino whales visit Macau
High-rollers from the Chinese mainland have always been one of the main drivers behind Macau's gaming expansion. Those big spenders started to take their business elsewhere after China's economy dropped to 7.4% last year, which was the weakest growth in 24 years. China's crackdown on corruption is another obstacle for high-rollers to visit the world's largest gambling hub.
Urge for diversification
Gambling is illegal in China, but Macau is the only exception. In 2006, Las Vegas lost its title as the casino capital of the world to the Chinese city. Macau's gambling revenue is seven times that of Sin City. Beijing promotes diversification in an effort to attract more families rather than focusing on high-rollers.