Gambling revenue Macau drops 23.2%
Casinos based in Macau find themselves in economically heavy weather after revenues dropped by 23.2% last month in comparison to October 2013. It is the largest decline since record keeping began in 2005. Beijing's crackdown on corruption is one of the main reasons for the downturn.
Main engine of economic growth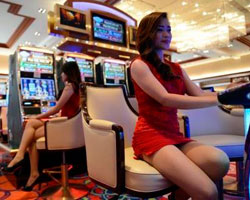 Total turnover fell to $3.5 billion in October from a month earlier. Macau' gambling industry is undoubtedly the biggest one across the globe, and more than five times larger than Las Vegas' casino sector. The gambling industry is the main driver of Macau's economy, with high-stake gamblers comprising the lion's share of the casino turnover.
Economic damage caused by protests
Gambling is illegal in China, with the exception of Macau and Hong Kong. However, big-spending casino players have reduced their spending partly due to China's crackdown on corruption. Additionally, pro-democracy protests in Hong Kong may have hurt Macau's gambling tourism as the distance between both special administrative regions is only 40 miles. Many gamblers from the mainland of China first visit Hong Kong before heading on to Macau.