Nashik Police bust 13 black-market gambling spots
Illegal businesses that offer alcoholic beverages and/ or gambling are a serious problem in the city of Nashik (Maharashtra). Authorities have raided 46 of such underground establishments during a day-long operation yesterday. Police officers detained nearly 100 suspects and recovered cash and lots of valuables, including mobile phones and motorbikes.
Meeting places for criminals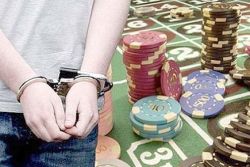 The extensive police operation included 33 illegal liquor spots, alongside 13 black-market gambling dens. Authorities believe that delinquents use such underground businesses to organize their operations, involving drug trade and liquor. All Nashik police departments participated in the crackdown across the city in the state of Maharashtra.
Scourged by homicides
In the last two weeks, four people have been killed, and two of those murders happened during the day. Police arrested a youngster in connection with another homicide. So far in 2016, 19 people have been murdered in Nashik, and there have been 17 reports of attempted murder. Most of those cases were related to drug and/ or alcohol use. Illegal games of chance are among the most common crimes, and 87 black-market gambling venues have been shut down so far in 2016.