Spanish family hosted unusual lottery
Lottery fans love to scoop staggering cash prizes, but how about winning a house thanks to a lottery ticket? Meet the Bolumars, a Spanish family who decided to launch a lottery in order to get rid of their inherited property. The $99,256 house features four bedrooms and it's located in the small town of Segorbe, only a 40-minute drive from Valencia.
Bureaucratic frustrations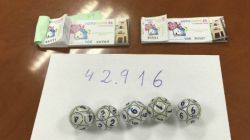 The Bolumars became the owner of the property after one of their family members passed away in 2013. Tickets cost only 10 euros, and the Bolumar family had to overcome multiple bureaucratic obstacles, but after nearly a year they were able to host the lottery. On March 28, they conducted the draw that saw one competitor winning the town house.
Inventive family
They were unable to find a buyer due to the collapsed real estate market. The Spanish family found another way to offload the property. They even launched a special web page to inform people about the unusual lottery. A huge number of Spanish residents purchased tickets, in addition to competitors from outside Spain.
Brilliant solution
"The house attracted only a few individuals, but none of them was able to finance the property. For that reason we decided to host an online lottery", a spokesperson for the family said. "The winner has become the proud owner of a $99,256 home thanks to a €10 ticket."
Beneficial for other people
With the lottery ticket sale, the family collected about $97.470, in addition to another $10,830 after administrative costs. Other Spanish people who want to sell their home through a raffle can appeal to their expertise. "People can take advantage of our experience as it's the first house sale through a lottery in Spain", the family spokesman added.