Royal Panda player scoops live blackjack win worth 62 lakh rupees
A fortunate gambling fan has bagged a life-changing bonanza whilst playing Royal Panda Live Blackjack. Meet Roger, who took home a stunning £112,102 in cash (approximately 62 lakh rupees) courtesy of an impressive run of good luck. This incredible payout shows why Royal Panda's dedicated tables are such a big hit amongst gambling fans.
Awesome tally of wins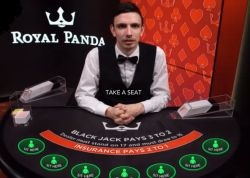 Roger certainly likes to play live online casino games, and Lady Luck was definitely on his side this time:
The gambling enthusiast decided to try a game of Royal Panda Live Blackjack
He took advantage of high table limits and earned multiple massive payouts
Roger decided to call it a day when his winnings had soared to a stunning 62 lakh rupees
The lucky gambler also raked in lots of Loyal Panda Points at the Royal Panda Live Blackjack table. Needless to note that players can trade in their Loyal Panda Points for amazing giveaways in the Loyal Panda Shop.
Great blackjack bonus
Royal Panda's live casino provides players with many cool titles, including three dedicated tables:
Royal Panda Live Roulette
Royal Panda Live Blackjack
Royal Panda Live Blackjack VIP
The high table limits are one of many reasons that contribute to the popularity of these rewarding games. Furthermore, Royal Panda hosts a generous blackjack promotion called 'Lucky 21', which enables competitors to scoop a £210 bonanza (approximately 17,429 rupees) every month.