Royal Vegas casinos offer live croupiers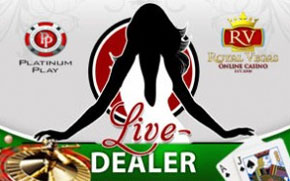 It allows players to play casino table games handled by real live croupiers.
Real casino in your own home
For online casino players nostalgic of the human touch and transparency of traditional casinos, the Fortune Lounge group of online casinos now offers live croupier table games. The role of the croupier is done by a professional and not by software. The croupiers are filmed live and manage the online table games for the players connected to their online casino. Players witnesses he action of the casino live just as if they were in a land based casino.
Favourite casino table games on offer
The table games in live dealer mode available are blackjack, roulette and baccarat. Exciting action packed table games par excellence. The role of the online dealer is multiple. The player chooses the camera angle. They can therefore choose to sit at the game table opposite the croupier as in a traditional casino. The games take place according to the accepted casino rules for each of the three table games. The Fortune Lounge group of online casinos definitely no longer have any reason to envy their Monegasque, French or American land based counterparts.
Limited seats available
Tables have several players facing the dealer. The number of places is limited. If for example a player wants to join a blackjack table that is already full then they are placed on a waiting list for the upcoming games. Authenticity comes at a price.
Personalize your gaming experience
The Fortune Lounge group of online casinos marks points for functionality as the player is able to personalize their settings. He can set the sound, display and view of the game to his taste. Live Dealer brings all the comfort and luxury of traditional casinos directly to the player's home. It successfully marries the best features of traditional casinos with the benefits of the online game.