Indian authorities smash interstate betting ring
Thirteen people have been arrested in connection with an illegal betting operation. Cash of Rs 26.48 lakh was recovered at multiple underground gambling spots. The black-market activities occurred at two locations in the city of Hyderabad, and at one spot in Secunderabad. Authorities executed the raids after receiving information about the illegal gambling.
Network of underground bookmakers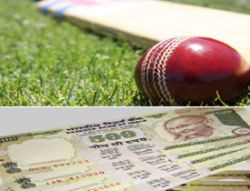 42-year-old Satya Prakash Jindal is believed to be the gang's kingpin. Multiple bookmakers and sub-bookmakers participated in the illegal betting operation. Police also recovered cell phones, computers, and televisions from the locations. After every cricket game, the bookmakers would order other gang members to visit the participating gamblers in order to collect placed bets or to pay out winnings.
Interstate gambling mafia
Jindal also cooperated with illegal bookmakers based in other Indian states, including Rajasthan, Telangana, Haryana, and Andhra Pradesh. Police investigators will interrogate all the suspects who were arrested. A spokesperson for the Task Force teams confirmed that the test match between South Africa and Bangladesh generated lots of betting traffic.