Vastrapur police arrest five cricket bookmakers
Cops have detained five people who allegedly operated a betting ring at a Vastrapur-based hotel, according to local media. The five bookies allowed punters to place bets on a cricket match, and they used the so-called 'play' software to register the wagers. At this stage it's unclear how many bets the bookies accepted and how much money they raked in.
Hotel-based cricket ring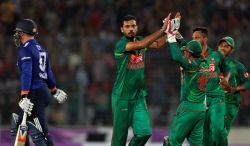 Police received information that bookmakers used a local hotel to operate a betting ring that accepted wagers on the cricket clash between England and Bangladesh. The group of bookies included 56-year-old Lakhiram Tejwani from Ambawadi, 31-year-old Jayesh Thakkar from Bhabhar, 42-year-old Banaskantha from Prahladnagar, 30-year-old Vishal Thakkar from Patan, and 20-year-old Hiralal Patel from Mandali village.
Betting rates from online sportsbooks
A total of Rs5.7 lakh in cash was seized from the bookies, in addition to betting paraphernalia, a TV and several vehicles. The five bookmakers told police that an accomplice from the city of Unjha (Mehsana) had provided them with the sports betting software. They used two online sportsbooks to obtain the betting rates for the cricket match in question. Police are checking the computers they confiscated to recover the identities of the punters who wagered on the fixture.