Royal Panda premieres live game loaded with 3.75 crore rupees
How about spinning the wheel of fortune at Royal Panda's live casino? Dream Catcher is their latest addition, and this live online game features a top prize worth a stunning 3.75 crore rupees. Meet the TV-style host, and use the chat feature whilst enjoying the action with high-definition streams. Experience the excitement of the legendary wheel of fortune, and collect some serious cash!
Six colored segments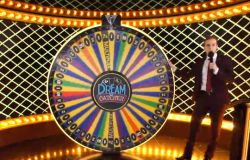 The entertaining wheel of fortune consists of six colored segments, and each of them represents one of the betting numbers (1, 2, 5, 10, 20, plus 40). Select your preferred numbers, and place your bets, varying from 7.50 to 75,000 rupees per game. All betting numbers correspond with their own payout odds, ranging from 1:1 up to 40:1, read a statement from Evolution Gaming.
Rewarding functionalities
The zoom feature allows close-ups of the spinning wheel, while the chat functionality enables you to interact with the television-style host. It goes without saying that you can also use the chat feature to communicate with other competitors. Enjoy the energetic ambiance that adds up to the immersive visual and audio experience, which you can view from different camera angles. Experience the thrill of Royal Panda's Dream Catcher, and maybe you'll be winning the top prize worth 3.75 crore rupees.