Death penalty for indebted gambler from India
Raghunandan Yandamuri is facing the death penalty after a grand jury indicted him on first-degree murder charges. The 28-year-old man, who suffers from a compulsive gambling addiction, has been found guilty of murdering two people. In 2012, Yandamuri kidnapped an Indian infant and her grandmother.
Indian duo kidnapped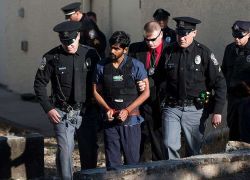 The indebted gambler decided to kidnap the duo in an attempt to collect money for his debts. Yandamuri, who lives in the US, targeted 61-year-old Satyavathi Venna and Saanvi Venna. The latter was only ten months old at the time of the kidnap. The incident took place in King of Prussia, Pennsylvania.
Huge gambling debts
At the time of the verdict, Yandamuri seemed calm and didn't show any emotion as his lawyer had prepared him for a possible death sentence. The 28-year-old moved from India to the US in order to work in the IT business. Yandamuri had planned the abduction after he became desperate due to his pile of debt. The Indian problem gambler had allegedly lost huge sums of money at a local casino.
Fatal drop
He targeted an Indian family who lives in the same neighborhood. Yandamuri visited them when they were celebrating a birthday. After kidnapping the baby, he demanded $50,000 from the parents. The baby slipped out of his arms, and a few hours later the infant died of head injuries. Prior to the fatal accident, Yandamuri had stabbed the 61-year-old woman.