Poker player Danny Doucet wins WSOP event
He won the Texas Hold'em no limits at Harrah's Casino in New Orleans.
WSOP is holding poker tournaments at Harrah's Casino in New Orleans
The World Series of Poker (WSOP) crowned its latest champion – Danny Doucet of Louisiana. Doucet won the six game Texas Hold'em no limit poker tournament at Harrah's Casino in New Orleans, where the WSOP has been hosting many competitors taking part in the latest tournament.
A beautiful victory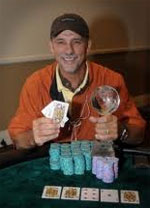 He won the first prize of $ 21, 116 during the course of his victory as well as a prestigious Gold Ring and one more tournament to add to his largely improved poker CV.
The National Championship
The event was the third tournament among a total of ten that are being held at Harrah's Casino over the next few days. Following this the WSOP tour heads for Las Vegas for the national championship.
Doucet is well placed
The entry for this all important tournament in Las Vegas is automatically given to the poker player that finishes each stop of the tour with the largest number of points, which places Doucet in a good position to capitalize on his win in New Orleans.
The tour progresses
WSOP has recently completed tours in numerous locations such as Harrard's in Chester and Caesar's Palace in Las Vegas where the tour will return for the national championship.